MUSKEGON – The West Michigan Ironmen think they've finally found an answer for their long-standing and frustrating league problem.
They're forming a league of their own, in cooperation with a Battle Creek entrepreneur who is starting his own arena football team in that community.
The new Great Lakes Arena Football League will begin play early next year, according to Ironmen owner Mario Flores and General Manager/Coach Nate Smith.
As its name suggests, the new league will have a regional flavor, with member teams coming from states in the Great Lakes region. While it's not yet known how many teams will compete in the inaugural 2023 season, Muskegon and Battle Creek are in, and there is strong interest from potential team owners in several other areas, including Chicago, Ohio and Harrisburg, Pennsylvania.
The keys to the new league will be a regional format that minimizes travel costs, plus Ironmen ownership of the league, which will allow Flores and Smith to screen potential new teams for financial and operational issues.
The Ironmen are so confident about the new league that they have already secured home dates for several games at Muskegon's Trinity Health Arena next season – February 10, March 4, March 18, March 31 and April 7.
The team never locked down dates for home games this early in the past for various reasons, including uncertainty about what league they would be in from year to year, and worries about whether opposing teams would actually show up for games.
"We're in the period I call the money period," Smith said. "We've been talking to 6-8 potential teams, and now it's time for them to turn in fees, so we can find out who's going be in and who's going to be out."
If the new league works as well as Flores and Smith hope, it will provide the type of stability that the Ironmen have been searching for throughout their successful but bumpy seven-year history.
The Ironmen have been an island onto themselves in Michigan. They are always very good on the field, with a solid group of veteran players returning to the team every year, and they have a sizable and passionate fan base that has supported the team from Day 1.
The Ironmen's success at the local level has dovetailed well with the recent comeback of downtown Muskegon. City officials worked with the Ironmen to make rental rates affordable at Trinity Health Arena, because they know the team has thousands of fans who bring traffic and business to the downtown area on home game nights.
"We want to keep indoor football in Muskegon, and we want to continue to be part of the renaissance in downtown Muskegon," Flores said. "That's what drives us. Every year we ask ourselves if we want to do this again, after all the headaches, and the answer is always yes, because we love it and the people love us being here."
But finding a league with similarly stable teams – within a reasonable travel distance – has been an ongoing battle.
Back in 2016, the brand-new Ironmen were members of a league called American Indoor Football. It was kind of a rag-tag organization that had its share of issues.
For instance, the Ironmen were supposed to compete in a playoff semifinal game against a team from Chicago, but that team forfeited just days before the big showdown. That sent the Ironmen to the league championship game, which ended before the clock ran out due to a fight involving players and spectators in the stands.
After that the Ironmen joined Champions Indoor Football, a quality league with lots of stable franchises spread all over the country – but that meant a lot of expensive travel.
The Ironmen, under a previous owner, tried to get the team out of the CIF and into another league, but that led to legal issues, and in the end the team was not part of either league.
In 2020 and 2021 the Ironmen competed in and dominated another weak operation, the Midwest Professional Indoor League. Last season they joined what was supposed to be a new league, the Professional Arena Football League, but by the time the season started only two or three teams were operating, and the Ironmen ended up playing an independent schedule.
Scrambling for opponents outside of a league led to uneven matchups, because many of the teams the Ironmen found were not very good.
Last season, for example, the Ironmen defeated the Carolina Predators 54-14, the Central Illinois Royals 68-21 and the Kentuckiana Kurse 62-0.
"Technically we were in a league, but by the end of the season there were just two teams," Smith said about the 2022 season. "There were supposed to be five or six teams, but that never came to fruition."
"It's been frustrating going league to league, dealing with teams that sometimes don't show up, and don't do what they are supposed to do," Flores said.
The GLAFL is designed to be a bus league, which means minimal travel costs for member teams. In the past the Ironmen sometimes traveled extensively for games, which meant pricey transportation, food and lodging tabs.
A good example was last season, when the Ironmen played two games against the Charlotte Thunder, with the second one being on North Carolina. The total tab for that trip was in the $20,000 range.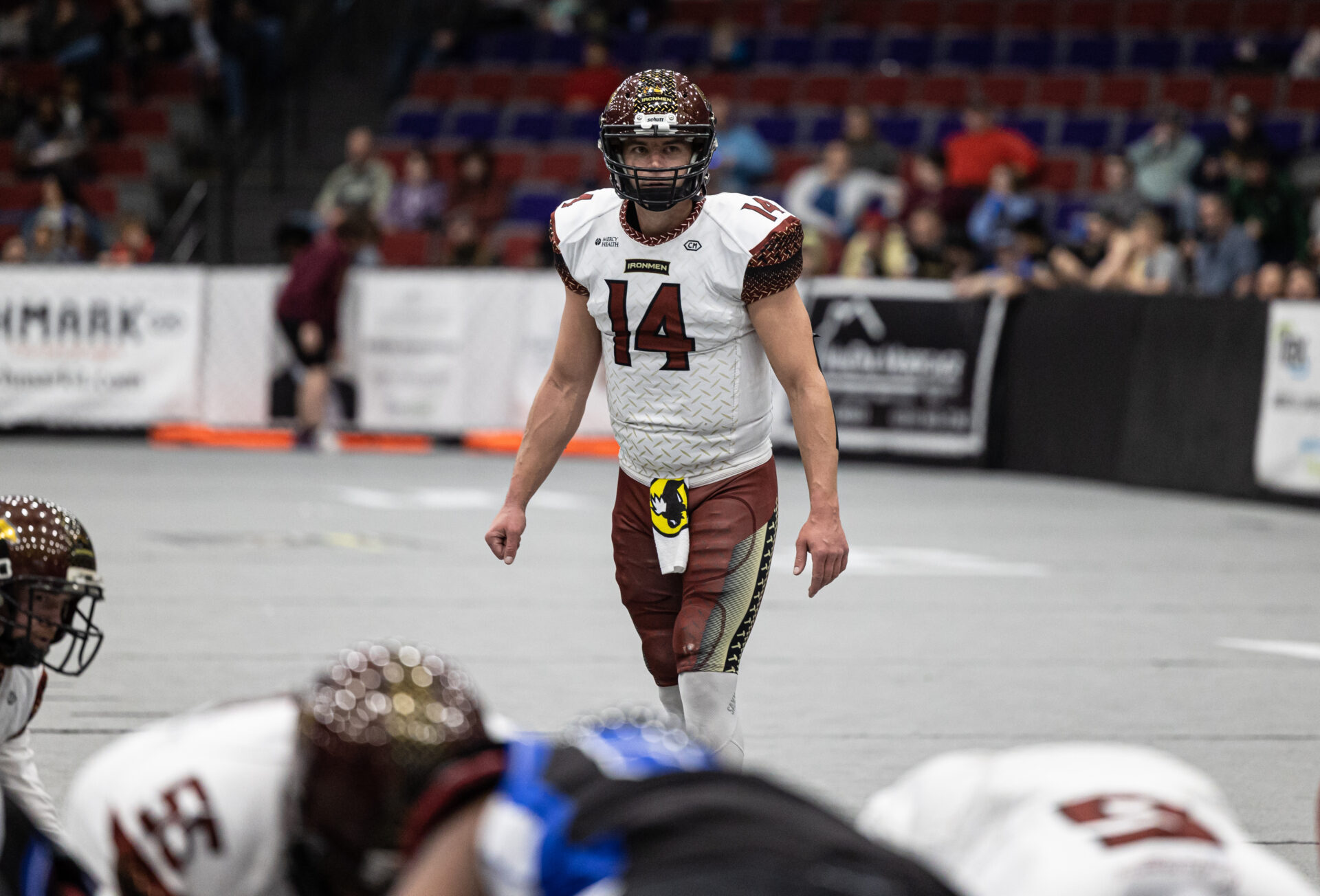 The new league's regional format will probably serve as a big incentive for numerous cities to join at some point, including more in Michigan, creating some new rivalries, according to Flores.
"Being a regional league with limited travel creates opportunities for teams to form," Flores said. "You eliminate maybe $40,000 to $50,000 in travel costs right out of the gate. That's huge. You're talking about hour-and-a-half or two-hour bus trips."
The GLAFL will be jointly owned by the Ironmen and Jake Shank, the operator of the new Battle Creek Smoke franchise. That means the Ironmen will have direct control over league operations and membership and can make sure that new teams have the resources necessary to meet obligations.
In the past the Ironmen belonged to several leagues with weak-sister teams that could not keep up financially, sometimes failed to show up for scheduled games, and sometimes folded with little or no notice.
That happened because many of those teams were granted extra time to pay their league fees, which was a sure sign of instability.
"When you trust teams that don't pay, there's some chance that they won't show," Flores said. "Now we will dictate who comes in, and Nate can smell bullshit a mile away. We're calling the shots now."