HESPERIA – It's one thing to be a hard worker, which is necessary to be successful in a grueling sport like wrestling.
It's another thing for a wrestler to force himself into a state championship frame of mind, and do everything that needs to be done to leapfrog to the top.
But that's exactly what Hesperia's River Roberson did this season after finishing fifth in the individual state finals last season.
Roberson pushed himself to the limit as his senior season passed by, and it all paid off last Saturday when he jumped four places and captured the Division 4 state championship in the 135-pound weight class at Ford Field in Detroit.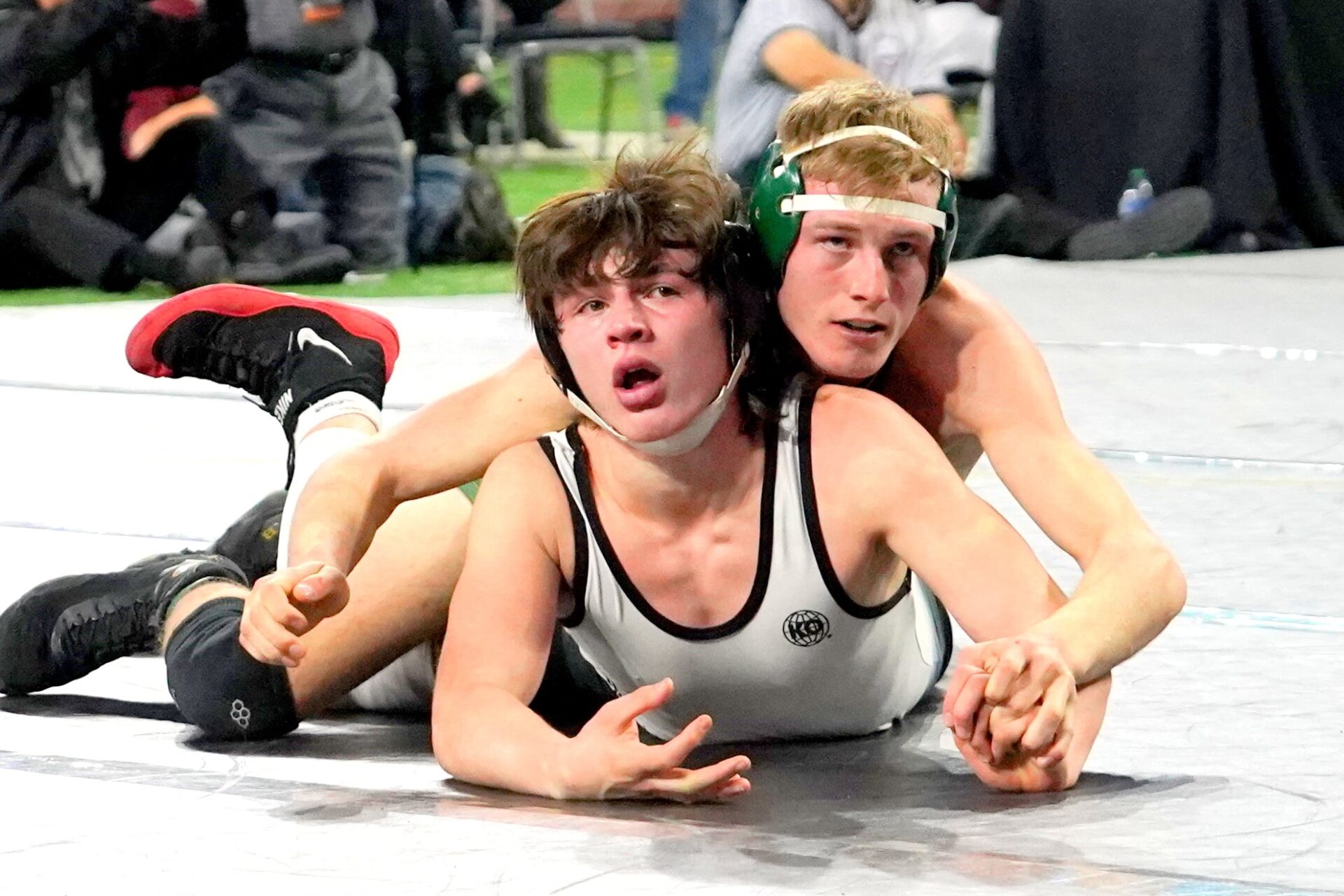 "It hasn't really sunk in yet," said Roberson, who came from behind to defeat Payton Rogers of Hudson 10-7 in the championship match. "It's a lot to take in. A lot of hard work has been put into this."
Hesperia wrestling coach Mark Arbogast said he knew when Roberson finished fifth last year that he had a chance to make it to the top.
"His mentality and work ethic really improved," Arbogast said. "He was always a good worker, but his whole thought process on things changed. He wanted to step up to the next leve,. and that really opened doors for him."
One of those doors that opened for Roberson was the opportunity to work with Justin Zeerip, a former state champion wrestler at Hesperia who now coaches at Whitehall.
"Last year I started going to this club wrestling," said Roberson, who finished with a 45-2 record this season. "That took me to fifth. After that, I was working out with Justin Zeerip, and he took me to some camps that really pushed me to greater heights."
Roberson said he really started to believe he could compete for a title just after the Christmas holiday.
"It was like three weeks after Christmas," he said. "I was in the finals of an event with a Division 3 state finalist and I ended up beating him by one. That's when I thought, I can do this."
On his way to the finals, Roberson won via pin just 1:05 into his first match, followed by another victory via pin at the 3:53 mark of the quarterfinals.
The really hard work began in the semifinals, when Roberson had to compete all three rounds to defeat Joe Sunkle of Springport 8-4.
He trailed 4-1 in the championship match before finding a way to come back and steal the crown from Rogers.
"It was a good battle," Coach Arbogast said about the match. "He got a little extended in the beginning and had to come back from the deficit. It didn't take him long to improve on that, though. He came back and kept the hammer down the whole way."
Roberson said he smelled victory after escaping from his opponent's grip toward the end of the first round.
"As soon as I broke his grip and he lost control, I knew he wasn't ready for my speed," Roberson said. "I believed in all my training, and my coaches were coaching me up. It gave me tons of confidence, and as soon as I knew he couldn't ride me, I knew it was over for him."
Roberson admits getting his hand raised in victory for the final time as a Panther was an emotional moment for him.
"I finally did it," he said, describing his thoughts in the moments after the match. "I'm at the top of the world. I had a pretty good combination of tears and a smile. I like to know that I went out with a bang."
Arbogast was pretty happy to see his athlete's determination and work pay off, as an example for younger wrestlers in the program.
"I'd say he did it all right," the coach said. "He was a joy to be around. He had a genuine love for the sport of wrestling, and that's a big deal. He was a prime example of someone who loves the sport and cares for it. I've told him, I couldn't be prouder to have him be an example for the younger kids."
While Roberson expects to return and help coach the Hesperia wrestlers next season, he hopes his state title will leave a long-term mark on the program.
"I hope that I showed that hard work pays off," he said. "I hope I also showed that you can't be scared to outwork your teammates and push them to greater heights, as well."