FRUITPORT – The Fruitport soccer team has been pretty tough to score against all season, but the Trojans started becoming super stingy around mid-September.
In its first nine games, through Sept. 11, Fruitport gave up a total of 12 goals.
In the nine games since then, the Trojans have only surrendered one.
It's no coincidence that the defense got stronger when senior Elijah Aldridge returned to the lineup following an injury, right around the middle of September. He joined fellow senior Brady Brown and juniors Sam Krueger and Braxton Ward to form an imposing defensive back line.
The group meshed together well and just kept getting better, helping the Trojans post an amazing eight shutouts in a row heading into Monday's O-K Blue conference championship game against Holland Christian on the road.
The streak goes back to Sept. 16, when the Trojans played to a 0-0 tie against a great Reeths-Puffer squad, then continued with shutouts over Grand Rapids West Catholic, North Muskegon, Grand Rapids Covenant Christian, Montague, Hamilton and Hudsonville Unity Christian.
There were games when Fruitport's standout goalie, Logan Werschem, had to stop a fair number of shots, including 10 against powerful Hudsonville Unity Christian last week in an exciting 2-0 victory in the O-K Blue conference tournament semifinals.
But there have also been a lot of games when the defense kept Werschem's workload more manageable, like against Hamilton in the conference tournament opener last week, when the Hawkeyes only managed four shots on goal.
"That has been one of the main reasons behind our success," Fruitport coach Dan Hazekamp said about the performance of the four defenders. "Those guys really work well together and communicate with each other. They hold each other accountable, but they do it as a unit. We saw the difference they make early on in the season, and it's only gotten stronger."
Unfortunately, the Trojans will have play Monday's game at Holland Christian – and likely the rest of the season – without Aldridge, who suffered yet another injury in the Unity Christian game.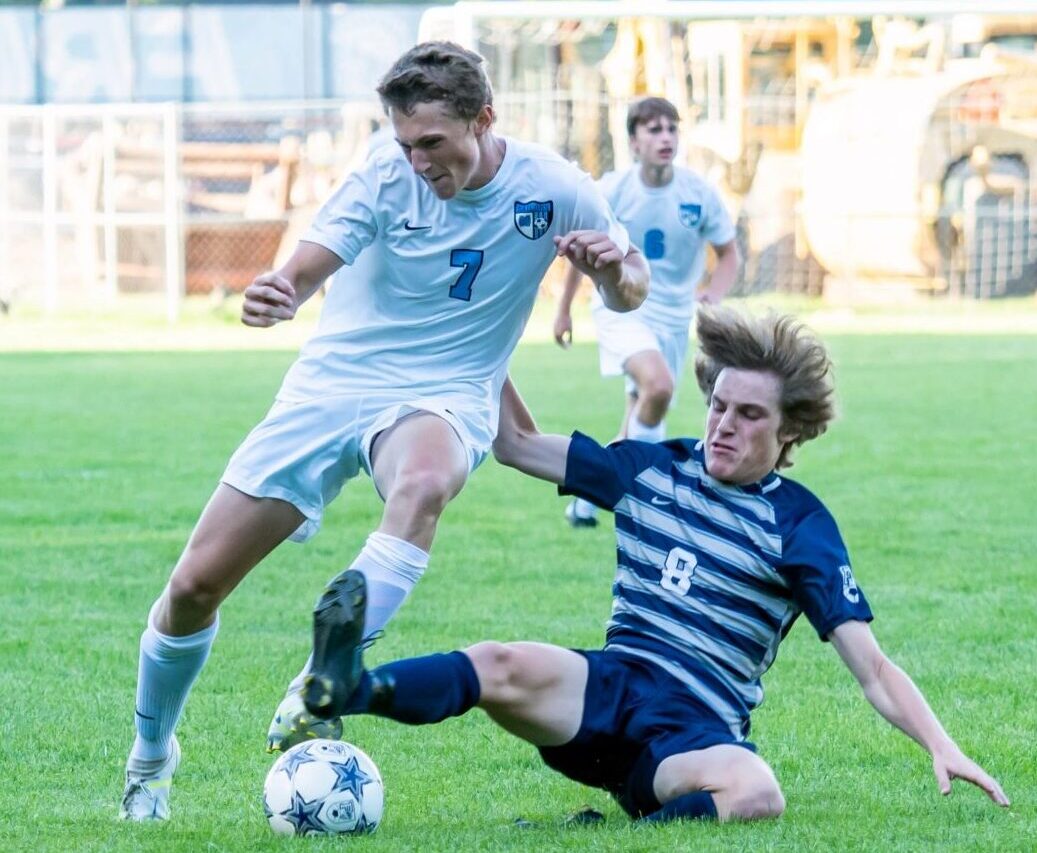 "Me and one of their players were both going for the ball, my left foot came down first instead of both of them together, and my whole knee just shifted outside," Aldridge said. "I felt it and heard it. I went straight down and couldn't get up. I knew it wasn't something small."
Aldridge went to a doctor last week and was told the injury is probably a torn ACL, which would mean his season is over. He will have more tests this week to confirm the prognosis.
"At first I didn't think it was an ACL, and I might only have to be out a few weeks," Aldridge said. "Hearing him say my season is probably over was hard to process and take in."
The injury was a very tough blow for the Trojans on an overwise happy night, Hazekamp said.
"He has brought some really, really good things to the table," Hazekamp said about Aldridge. "He has a more offensive mindset, so he's been able to attack out of the back and pressure defenses, but also has great technical skills in back that allow him to move the ball around.
"He has been playing hard and unselfish, doing everything we asked of him. My heart is broken for him."
Aldridge's injury does not mean the Trojans, now 14-2-2 and winners of seven straight games, have any less hope of beating Holland Christian on Monday, or doing well in districts, which begin later this week.
Hazekamp said Brown, Krueger and Ward, along with junior Isaiah Packard (who will fill in for Aldridge) have everything they need to get the job done.
"We have a lot of confidence in him," Hazekamp said about Packard. "He did a tremendous job against Unity Christian (after Aldridge was hurt), which was a good reminder that we can beat good teams with him playing."
The results this season might suggest that the Fruitport defenders have been playing beside each other for a long time, but that's not the case.
Brown started on the back line last season, but Aldridge and Krueger were more midfielders last season and Ward played on the junior varsity squad.
Something just clicked when the four of them got together this season, according to Aldridge.
"Going into the season we really didn't know what anything was going to look like, but then we figured things out and now we all work so well together," he said. "There is a lot of communication between the four of us, we watch film together and look toward the next game, and we stay positive and help each other."
Like his coach, Aldridge fully expects the defense to keep playing well, and the Trojans to keep winning, despite the fact that they will have to compete without him. He said he's been asked to play a sort of player-coach role from the sideline, giving Packard and the other defenders tips in practice and games.
"I definitely think so, especially after watching them from the sidelines (after the injury)," Aldridge said about the Trojans' ability to keep winning. "I firmly believe they can keep the same momentum that we had going."