MONTAGUE – Famous poet Oliver Wendell Holmes once said, "Where we love is home – home that our feet may leave, but not our hearts."
That quote is fitting for Jacob Buchberger, who is currently living in Peoria, Illinois, chasing a professional baseball dream as a minor league player in the St. Lous Cardinals' farm system.
Like all minor league players, his ultimate goal is to be wearing a big-league uniform, and he's now three promotions away from reaching that dream.
So far he's been pounding the ball pretty well at every step of the minor league system. He hit well in his first year of pro ball in the low Class A Florida State League last season, and has been ripping the ball this year with high Class A Peoria.
But Jacob also maintains a strong attachment to his alma mater of Montague and the baseball news coming from there, for very good reasons.
His dad, Kevin Buchberger, is the longtime head coach of the varsity baseball team at Montague High School, and his youngest brother Aidan is a standout shortstop/pitcher for the team, just like he used to be.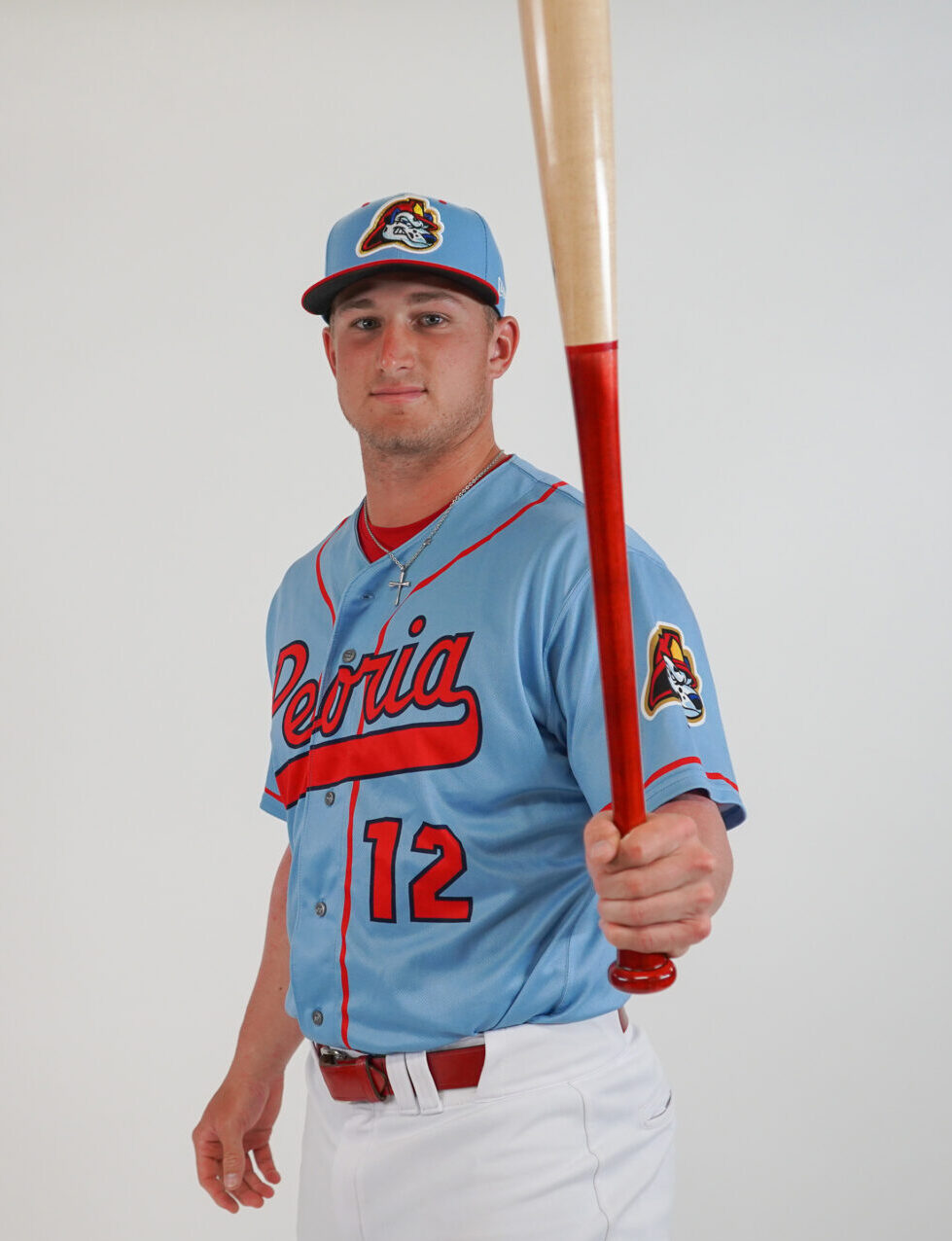 So while Jacob works on perfecting his own game and impressing the Cardinals' minor league scouts, he's also pulling for his dad and youngest brother.
"I read up on their games every day," Jacob said. "They've started out 10-0 in conference, which is good for them. They've played some tough teams and that really helps them improve and become the best baseball players they can be."
Aidan will study and play baseball at Concordia University in Ann Arbor in the fall, and has professional baseball dreams of his own. With an older brother actually living that dream, it seems more realistic.
"It's a big dream of mine to play at the next level (Concordia)," Aidan said. "Playing professional baseball is a huge dream of mine, too. I know I'll have to work for it."
Aidan said he didn't fully grasp how far Jacob has advanced in the pros, and how well he's doing, until he saw his brother's Peoria team play against the West Michigan Whitecaps late last season in Comstock Park.
"I saw that and thought 'Wow, he actually made it,'" Aidan said. "It's a lot of fun to see who he's playing along with, and watching him work his way up the system."
Jacob B. making news with his bat in the minors
Needless to say, the Buchbergers are a very big baseball family.
Kevin Buchberger was an All-Stater at Montague in his senior year in 1990. He started his collegiate career at Central Michigan University, then returned home and played two years at Muskegon Community College, earning All-State honors in 1993, He finished his collegiate career by playing one season at Aquinas College in 1994.
Kevin and Christine Buchberger have four sons – Jacob, Zachary, Elijah and Aidan – who followed all followed in their dad's footsteps and played baseball at Montague, but Jacob and Aiden are the only two still active in the game.
Zachary Buchberger is currently a student at the University of Michigan and Eli lives in Georgia
Jacob says he stays in close contact with all of his brothers, despite the daily demands of pro baseball.
"We're real close," he said. "We talk probably every other day. We have our own little group chat. We try to stay connected and know what's going on in life. It's hard to not see each other, but we make it work for now."
Jacob is happy that his career has taken him to the Midwest League, where he can play in cities that are easily accessible for his family.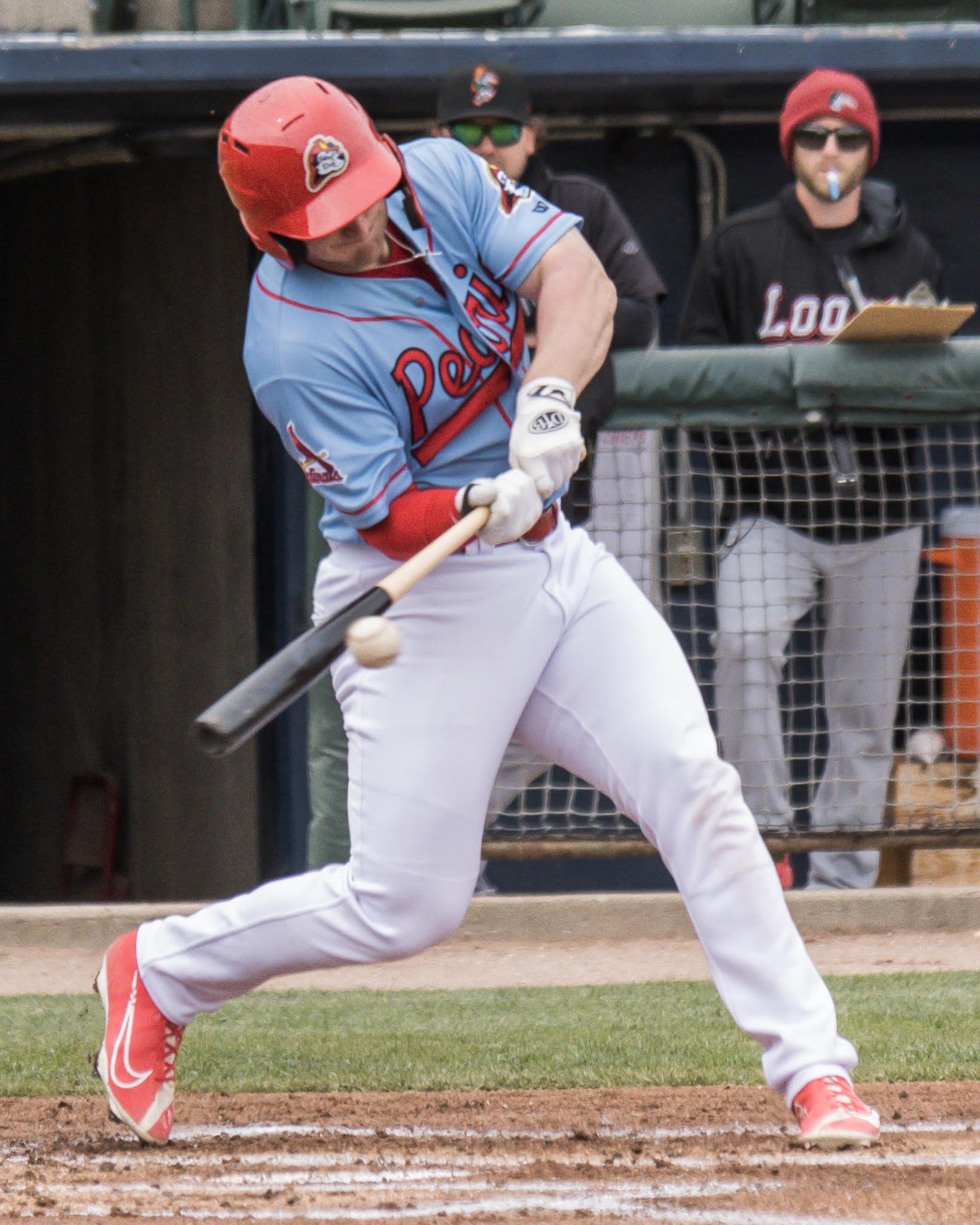 Peoria played in Comstock Park against the Whitecaps last year but is not scheduled for a visit this season. Jacob said his parents saw him play late last season in Appleton, Wisconsin, shortly after his call-up to Peoria.
"My parents came down the second weekend I was here," he said. "I was fortunate enough to play in Appleton, and my dad's side of the family lives in Wisconsin, so I got to hang out with them a bit. It was nice to see them and interact and catch up with them."
Jacob has made a steady climb in his baseball career since graduating from Montague in 2016 and finishing his collegiate career at Davenport University in 2020.
He signed as an undrafted free agent with the Cardinals two years ago and spent last year, his first pro season, with the Palm Beach Cardinals in the single-A Florida State League. He posted an impressive .308 batting average in 72 games, which earned him a late-season promotion to the Cardinals' high-A affiliate in Peoria.
He's back in Peoria this spring and is hitting the ball even better.
Jacob had two hits and two RBIs in the second game of the season, a 7-6 loss to Wisconsin.  He had three hits and knocked in two runs on April 17 in a 3-2 loss to Wisconsin.
He had three hits and one RBI on April 23 in a 6-3 loss to Cedar Rapids, and had two hits, including a homer, knocked in two runs and scored twice on April 29 in a 13-10 win over Wisconsin.
Jacob has had at least eight multiple-hit games, and was recently batting a smoking-hot .381 with one home run and 16 RBIs
"It's been good," Jacob said. "I was fortunate to get promoted last year, so I knew everything here and have been able to be myself."
Aiden and the Wildcats are doing great, too
Back home, Kevin and Aidan's team have experienced similar success.
The Wildcats started the season 0-3 but have turned things around in recent weeks. Montague is currently 13-7 overall and 10-0 and tied for first place in the West Michigan Conference. They will face North Muskegon on Monday in a battle for the top spot in the conference.
Aidan has been playing a big role for the Wildcats with a very impressive .393 batting average.
Likie his brother, the youngest Buchberger has had some big games. Last Saturday he delivered a bases-clearing double in Montague's win over Oakridge in the Tier 1 GMAA Baseball Tournament.
In a doubleheader sweep of Mason County Central, Aidan had two hits, including a home run in the opener, then had two hits and two RBIs in the second game.
In a win over Hart, he had two doubles, knocked in two runs and scored three.
Of course there's a huge difference between professional and high school baseball, and Jacob says he sometimes tries to help Aidan with baseball advice – even if Aidan doesn't want that advice.
"I try to help," Jacob said. "But he's stubborn, so he doesn't really listen to me much. He claims he knows everything and what to do with every pitch. Nobody likes to be talked to or taught by their older brother.
"My dad understands and says, 'You just have to let him be.'  But when he asks for advice, I try to give it to him and hopefully he takes it."
Aiden may think he doesn't need advice from an older brother who failed to get him out very often back in their younger days, when they played wiffle ball in the front yard.
"It was always a lot of fun and competitive, but every time he pitched, I hit at least 40 home runs," Aidan said with a laugh.
Both brothers say that coming from a family of competitive athletes has helped then develop as players.
"I think it's really helped," Aidan said. "It's taught me to be a better player and want to win."
That same competitive spirit has Jacob working hard to continue his climb up the chart in the Cardinals' system – but he says he doesn't dwell on what the future may bring.
"I just put it in the back of my mind," said Jacob about getting to higher levels of pro ball. "Everyone has a plan. I just have to go out and perform. I trust God and the process of what the future may bring."
As far as what position Jacob may play in the future, he's had stints at third base, second base, first base, left field and right field, and that sort of defensive versatility could make him more attractive to Major League decision-makers.
"I just fit where I fit," he said. "I'm assuming they want me to play, so they're finding positions for me. It's kind of my role to learn as many positions as possible and go from there."
When Aidan leaves the house in the fall to go to college, the Buchbergers will be facing an empty nest, which is a test for all parents.
Kevin said he and Chrstine are very proud of their sons, and they know a slice of home and Montague will always be in their hearts.
"We raise children so they can go off and do their own thing," the coach said. "We still have quite a bit of family time and stay together pretty good, but it can be hard with them so far apart."