FRUITPORT – The big group of sophomores on the Fruitport football roster are not letting the current season get them down too much, because they are obviously building for the future.
They are enduring the losses while they learn and grow, believing that in the next year or two the victory totals will increase.
But this week those sophomores are very focused on the present, because they're about to play in their very first game against archrival Spring Lake at home on Friday night.
Three who are already starters on the Fruitport defense say they've been watching the Battle of the Bayou for years and can't wait to get into the action.
"I watched the older guys play and always wanted to get in, since I was little," said Easton Fett, an inside linebacker.
David Johnson-Jimenez, who starts at defensive end, used to be a ballboy for the Fruitport varsity and remembers the feeling on the sideline when the Spring Lake game rolled around.
"It was always really intense, and now that I'm playing I'm feeling it, too!" he said.
Kalan Teeter, an outside linebacker, knows a lot about the history of Fruitport football and the importance of the Spring Lake game.
That's because his great uncle is Mike Teeter, one of the greatest Trojan football players of all time, who went on to play at the University of Michigan and in the NFL.
Ironically, Teeter's parents didn't let him play football until last year due to safety concerns, but now he's all into the sport and can't wait to play the Lakers on Friday night.
"It was like a health risk that I think my family didn't want me to take, but then I told them I was older and I know how to hit safely," Teeter said. "It's extremely exciting. It's only my second year of football and I'm getting to play against Spring Lake, our biggest rival."
All three young players say it's been a challenge to be starters at the varsity level in their sophomore year.
As Fett put it, "I have learned a lot more, but it's been pretty hard cause I'm a lot smaller than a lot of the of the guys we play."
But all three firmly believe that whatever happens against Spring Lake, or next week against Grand Rapids West Catholic, that are making an investment in the future of Fruitport football.
"I think we're going to have some pretty great years coming up," Teeter said. "We have a lot of good sophomores, and a good freshman class, too."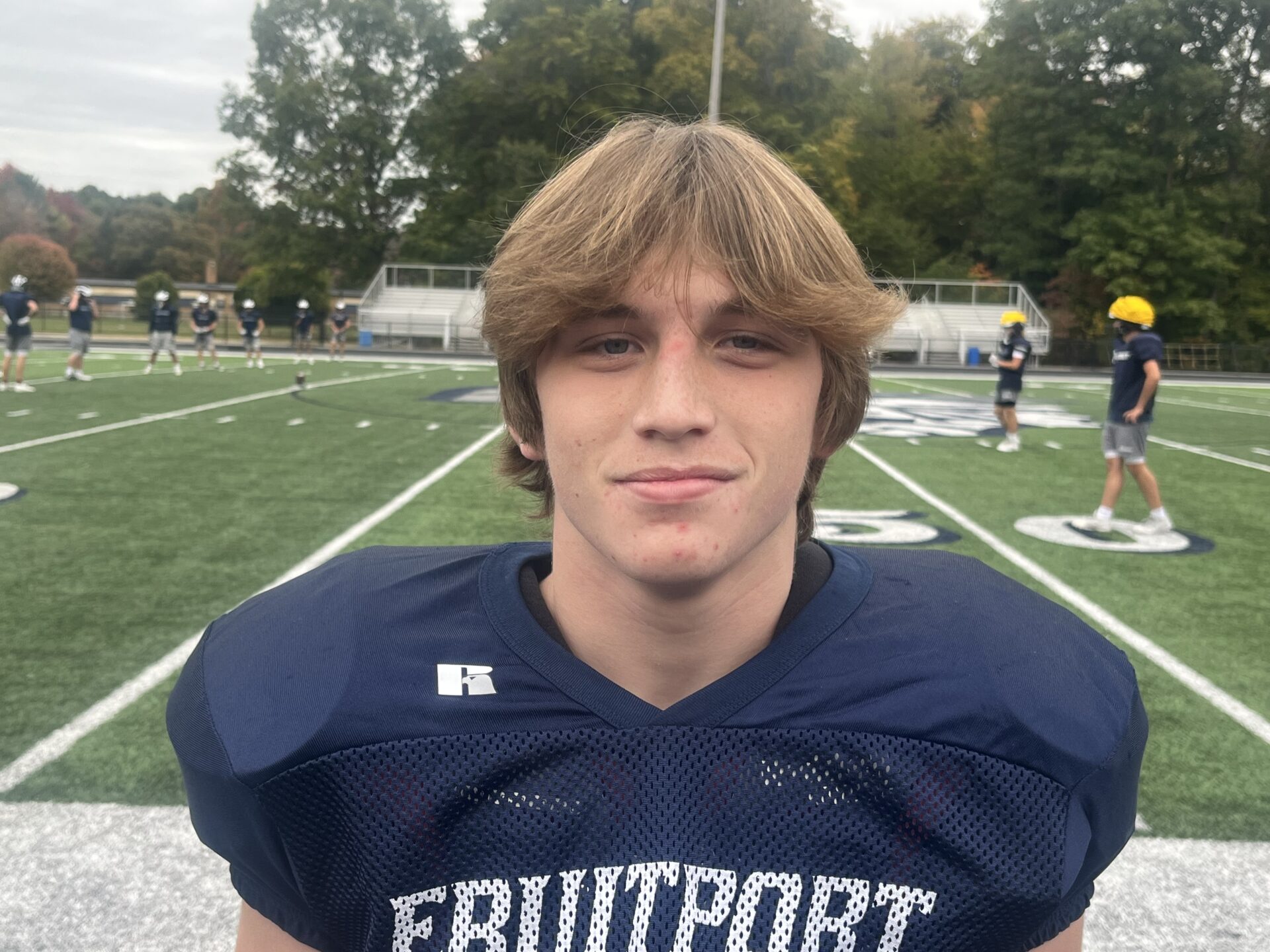 Johnson-Jimenez said all the learning and struggling will be worth it soon enough.
"It's been an experience going from JV to varsity," he said. "It's a really different type of intensity. But this year is just a building block. In the next couple of years we're going to be really good."
Fruitport head coach Nate Smith loves the current crop of younger players, particularly the sophomores.
As the season has gone by and the losses have piled up, Smith and his assistants have been giving the younger guys more opportunities to see live action and start their improvement process.
No championship trophies will be won this season, but they might be in a few years if the young guys continue to develop, according to Smith.
"We have been rotating in 10 sophomores and getting them playing time," the coach said. "Seven are starters and the others are subs.
"It's kind of one of the underlying themes from a big picture perspective – getting a lot of young guys experience is valuable. That's where we are as a program. They are learning a ton and getting better and better in increments."
In addition to the young players who are active, Smith said the Trojans have three players who transferred in from other schools and are not eligible this season, but will have big roles next year and beyond.
One is sophomore Carsen Crow, who has been working hard in practice every day and helps with charting defensive plays during games.
"He's talented and tremendously athletic," Smith said about Crow. "He's gotten so much better already this year. He's going to be a player."
Crow came to Fruitport from Spring Lake, and even though he won't be able to play, is very much hoping the Trojans can stun the Lakers on Friday night.
"I want this team to beat Spring Lake," Crow said. "We have the talent. We just need to put it all together."
Coach Smith said all the Trojans – particularly the seniors – feel the same way. It will be a major challenge for 0-7 Fruitport to match up with the 5-2 Lakers, but the coach said the players are determined.
"You know the cliché about how you can throw out all the records in a rivalry game, and obviously that would benefit us in a big way," Smith said. "Our guys have not been this locked in all year. It's a big rivalry, and it's also our Senior Nigh, so there's an added level of focus. Everybody wants to play their best and they want to get a win."