MUSKEGON – The West Michigan Ironmen have one big advantage over most of Muskegon's other semipro teams:
Roster stability and player familiarity.
Since the Ironmen first hit the field back in 2016, many of the same standouts have returned every year to form a solid and reliable nucleus for an always great team.
That isn't possible for the Muskegon Lumberjacks, because the talented young players only stay for a season or two before moving on to Division 1 college hockey. It's not possible for the Muskegon Clippers, because only college players can compete, and college guys exhaust their eligibility within a few years.
But Ironmen players can keep coming back for as long as they want, and for many it's become part of their annual life calendar. That allows Ironmen fans to become familiar with and attached to their favorite players, year after year.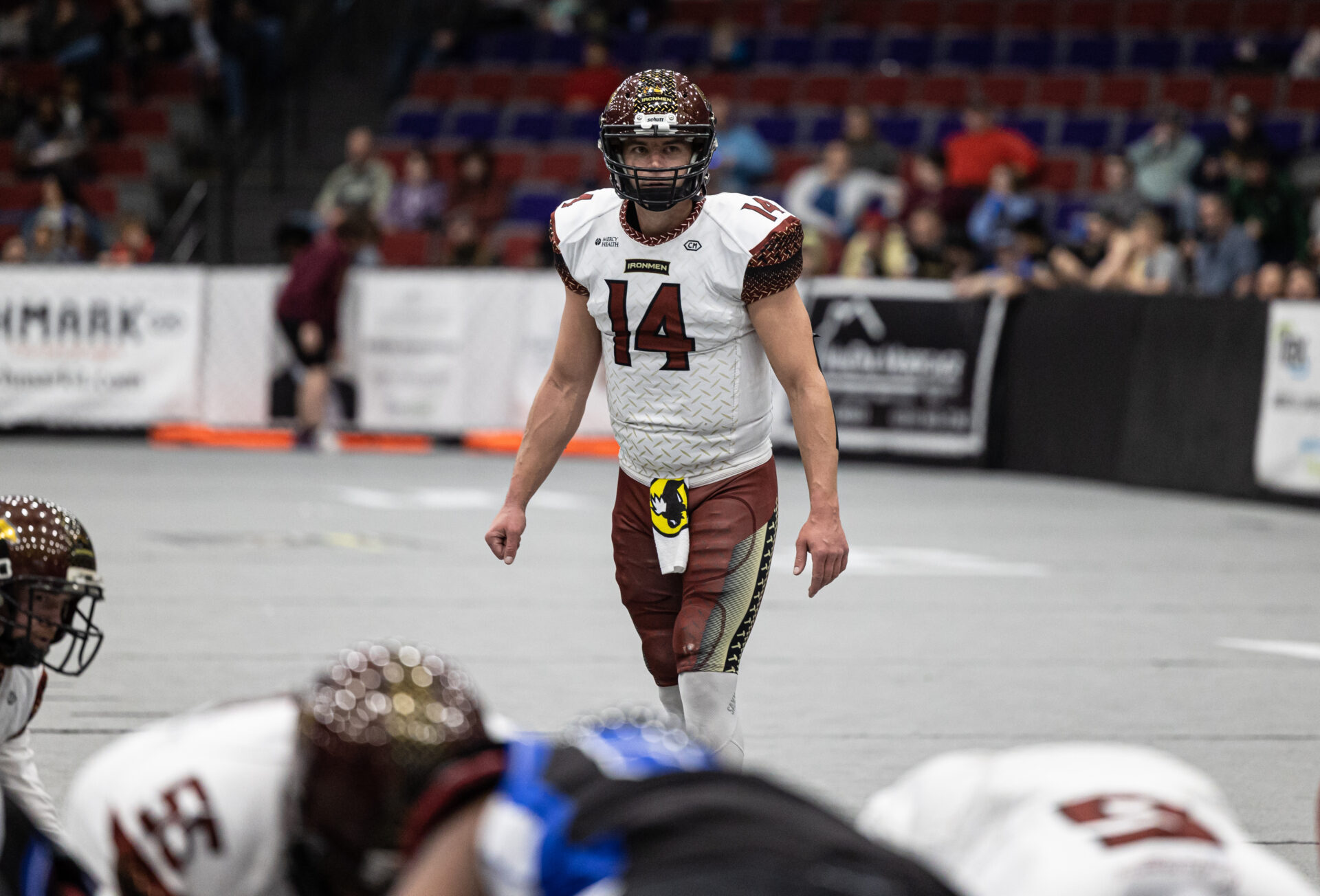 On Saturday night, when the Ironmen host the Ohio Blitz in the opening game of the 2023 Great Lakes Arena Alliance season, fans will again be excited to see traditional stars like Alex Carder, Derek VandenBosch, Ryan Armstrong, Alje Buiter, Keondre Banks-Craig, Dee White, Anthony Younger and several others suited up for yet another campaign.
The veterans come from several different states and from all around Michigan. They could play for lots of different teams, including some that probably operate closer to their year-round homes. Many have embarked on careers away from sports, and many have married and started families.
But they keep returning to Muskegon every spring because they love the way they are treated by the Ironmen's big, passionate fan base, and they love the sense of family that exists within the organization.
White, a veteran offensive lineman, is a perfect example. He grew up in Louisiana, played football at Southern Mississippi University and lives in Hattiesburg, Mississippi, but every year interrupts his life and full-time job to come north and play for the Ironmen.
"I had never been to Michigan and I didn't know anything about Michigan," said White, who came to the Ironmen midway through their second season. "But the team, the coaches and the city embraced me, and I've been here ever since. Every year they want me back, and I just feel fortunate to still be playing the game I love."
That type of loyalty is something that the Ironmen are very grateful for, according to general manager/head coach Nate Smith.
"Our guys stay in touch with each other throughout the year," Smith said. "This is their team. A lot of organizations tend to build one-year teams, but we try to look at guys as people who we would like to keep around. We are always looking for guys who are committed and want to be part of the organization.
"The bottom line is that our guys love playing in front of our great fans. That's what keeps them coming back."
The veteran players have dealt with a bit of frustration in recent years, because the Ironmen, who are always good on the field, have had trouble finding a stable league to compete in. They have been independent for the past two seasons, meaning the players had no league championship to play for.
That's all changed this season, with the formation of the new GLAA, and the Ironmen will again be competing to make the playoffs and win a league trophy at the end.
"It's going to be great," Coach Smith said. "The guys are excited. It feels good to be back to normal. The players did a good job for the last several years playing for pride, but now knowing there is some championship hardware to play for definitely adds to the mix for them. They are going to be playing with some urgency because they know there are other teams that also want to win that trophy."
Offense
The Ironmen offense will again be built around Carder, the veteran quarterback who has been with the team for all but one season since 2016 and has been great every year that he's suited up.
"Alex is an athlete who is driven, competitive and loves being part of the game," Smith said. "He's not showing any signs of slowing down at all. He's been having one of his best training camps. He's been sharp and effective and he's been helping to coach some younger guys."
Carder, a very efficient passer, will be throwing the ball to a pair of very dangerous wide receivers – Banks-Craig, a Muskegon High School graduate and third-year Ironmen player, and Sterling Alexander, who had a lot of huge catches last year in a terrific rookie season.
"Those two together are going to be really fun to watch," Smith said about the receivers.
Another weapon in the passing game will be rookie Tyler Bruce, a fast and slippery slot receiver who grew up in Florida and played at Adrian College.
"He's the kind of guy who can make you miss in a phone booth," Smith said. "He's quick and he's got good hands. We're going to see him grow and grow as the season goes by."
There will be two new faces manning the running back position, because longtime veteran Dakota Smith recently became a dad and decided to hang up the cleats.
Replacing Smith will be newcomers Davveon Taylor and Rudy Colston, both very talented runners, according to Smith.
"They both run the ball very hard and very well," the coach said. "You will see them both get their share of carries. In the indoor game you don't run the ball a ton, but they are both very explosive and can find the end zone in a heartbeat."
Of course they key to the offense is the O-line, which will again be anchored by big, skilled veterans White and Younger.
"White wasn't here the first week of camp, and it seemed strange," Smith said. "When he got here, it was like 'OK, the boys are all back together now.'
"Younger is in his fourth year and just keeps getting better and better. He's a leader for us, a great organizational guy. In this game, taking care of the quarterback is essential, and those guys do a great job of that."
Defense
The defensive line should be fearsome once again, led by Armstrong, a dominant nose tackle who has been with the Ironmen since their very first game.
"He's been with us since Day 1," Smith said. "We call him Mr. Biceps. He's a beast. Very few people can block him for an entire game."
Returning defensive lineman Clay Oliver and rookie lineman Evan Gattin, a 6-foot-7 former college basketball player, will also bring a lot of skill and power to the D-Line.
The linebackers will again be led by VandenBosch, another career Ironmen player who plays a huge leadership role on the field.
"He just continues to impress," Smith said. "You hear all the cliches about coaches on the field, but with him it couldn't be more true. We lean on him a lot, and also get his opinions about personnel decisions."
Another linebacker to watch will be Zach Watts, a former Central Michigan standout and Ironmen player who left football for two years but returned to the team this season.
"He stayed in great shape, and he's still a young guy," Smith said.
The secondary will be a huge strength for the team again, led by Buiter, a veteran and the leader of the defensive backfield.
"He's been with us probably five years," Smith said. "He started out young. I don't think he made the team early on, but we kept him around and he's been a starter for at least three seasons. He's gritty, hard-nosed and will not be outworked."
Second-year player Heem Stokes and rookie Willie Shanks, a Muskegon High School grad, will also add their talent to the secondary.
"Stokes is a lockdown corner for us," Smith said. "He often covered the other team's best receiver last year. Shanks came out for the team in great shape and was a surprise in camp. Defensive backs are hard to come by in this game. He will play a lot for sure."