MUSKEGON – For anyone who's been wondering, the answer is yes – Muskegon head football coach Shane Fairfield is very excited about making a return trip to Detroit's Ford Field for the state finals.
That's because every season is a new season, every Muskegon team is a new team, and the 2022 Big Reds have earned the right to be there.
It doesn't matter how previous Muskegon teams fared in the state finals, the coach said. The teams that got there and lost helped maintain a high standard for future teams, and future teams just might win, he said.
The future starts on Saturday for the Big Reds when they meet up with Detroit Martin Luther King in the Division 3 state championship game. King is the defending state champion while Muskegon is making its first state final appearance since 2019.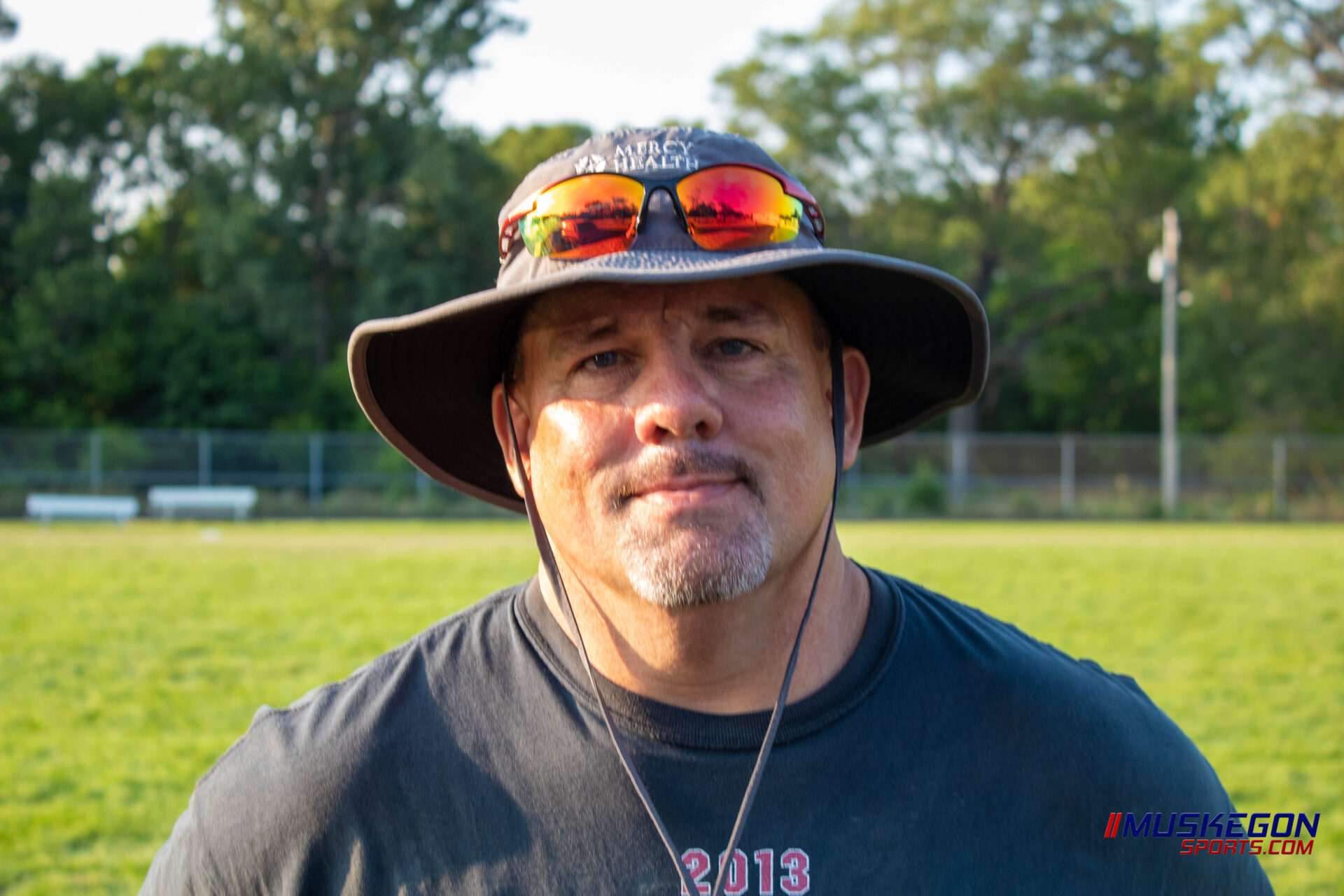 Fairfield knows Big Red fans are hungry for a state championship game victory after a lot of disappointments over the past 10 years.
He also knows, better than anybody, how hard it is to win at that elite level, but said his team is ready to give its all.
"We're not into moral victories," Fairfield said. "We want to win as badly as anyone. But it's the two best teams now, in all of the divisions, in my opinion. No disrespect to the other teams – there are a lot of great teams out there – but I feel that's where our program is at and where King is at. We're looking forward to getting back there and giving our kids an opportunity to win a state championship."
No head coach and team have been to the finals more than Fairfield and the Big Reds in the last decade. And no head coach and team have experienced as much frustration at Ford Field – expect maybe the Detroit Lions.
Fairfield's Big Reds are 1-6 in the finals since 2012, with losses to Birmingham Brother Rice in 2012 and 2013, Orchard Lake St. Mary's in 2014 and 2016, Detroit King in 2018 and River Rouge in 2019.
There was one huge victory during those years, and 28-10 win over Farmington Hills Harrison in the 2017 Division 3 championship game.
Some of the title game losses were painfully close, which made the outcomes even harder to take. The Big Reds fell 35-28 to Brother Rice in 2012, 7-0 to St. Mary's in 2017 and 29-28 to St. Mary's the next year.
"There were four seconds left and they threw a Hail Mary pass into the end zone," Fairfield said about the one-point loss to St. Mary's. "A lot of those games we were one play away and didn't execute. I could be sitting here with three or four rings instead of one."
Despite the frequent disappointment, Fairfield knows it's far better to make it to the finals and lose than not make it at all.
His job is to push his student-athletes to become the very best they can be, and recurring trips to the state finals are pretty good signs that he's succeeding.
"You always hear coaches say this – 'I'd rather not go than go and lose' – and those coaches still haven't been there," Fairfield said.
"It would be easy (to have less success) and spare ourselves the possible heartache of losing, but we don't want to be a program that only makes it there once or twice with one special group of kids going through. We get there continually, year in and year out, despite the challenges of injuries, youth, transfers and everything else going on. That's good enough for me."
Fairfield hates the notion that former Big Reds who lost in the finals somehow failed. He knows they learned crucial lessons about hard work, dedication, self-discipline and success, and that's what education is supposed to be about.
"For every kid who didn't win that day, my heart bleeds for them, but I hope they realize what they accomplished for their school and community," he said. "We have some very special, amazing young men who are now very positive influences in our community. They didn't win that day, but they won in life."
The coach says all the Big Reds who made it to Ford Field helped develop the standard of excellence that's kept Muskegon in state title contention, year after year.
"Our state championship rings from 2017 also list the years 12, 13, 14 and 16 on them," Fairfield said. "All of those teams took steps toward where we ended up. They all had a part in it."
Fairfield says making the state finals in an exciting experience for any player, whether their teams end up winning or losing.
For the Big Reds the experience started on Tuesday, when they walked through the hallways of Muskegon's various elementary schools, greeting younger students who lined the halls to wish them luck.
"Those are the future Big Reds," Fairfield said about the youngsters who came out of their classrooms to meet the players. "The guys on this team were those kids in the hallways when (former standout quarterback) Deshaun Thrower went though. Our young people look up to these guys. They are their professional athletes. They are their superheroes."
Going to Ford Field – not as a spectator, but as a participant – is an amazing experience, Fairfield said.
"We're going to be using the locker rooms that the Detroit Lions and the visiting team used just two days before in the Thanksgiving game," he said. "Sometimes the names of those NFL players are still on the lockers.
"We are going to walk down that tunnel and play on that field. Every time the guys turn on a Lions game for years to come, they will be able to say they played there. And there's nothing like that roar when we come out on the field and our fans and community cheer us. Wow. That's special."