MUSKEGON – From the beginning of training camp, Muskegon Lumberjacks Coach Mike Hamilton has repeated what's become obvious to everyone – that his team has a ton of talent.
He's also continually reminded us that many of those talented players are very young and will take some time to develop.
Both of those points were illustrated last weekend in the Lumberjacks' two-game home series against the Green Bay Gamblers.
On Friday night the Jacks overcame a two-goal deficit with a three-goal outburst and beat the Gamblers 3-2. On Saturday night the Jacks lugged their way to a 3-0 loss to Green Bay, their first shutout loss of the season.
The Jacks, about a fifth of the way through the regular season, are 7-6-0 with 14 points and are tied for fourth place with Cedar Rapids in the USHL's Eastern Conference standings. They are only one point behind second-place Team USA and Green Bay and five behind first-place Chicago.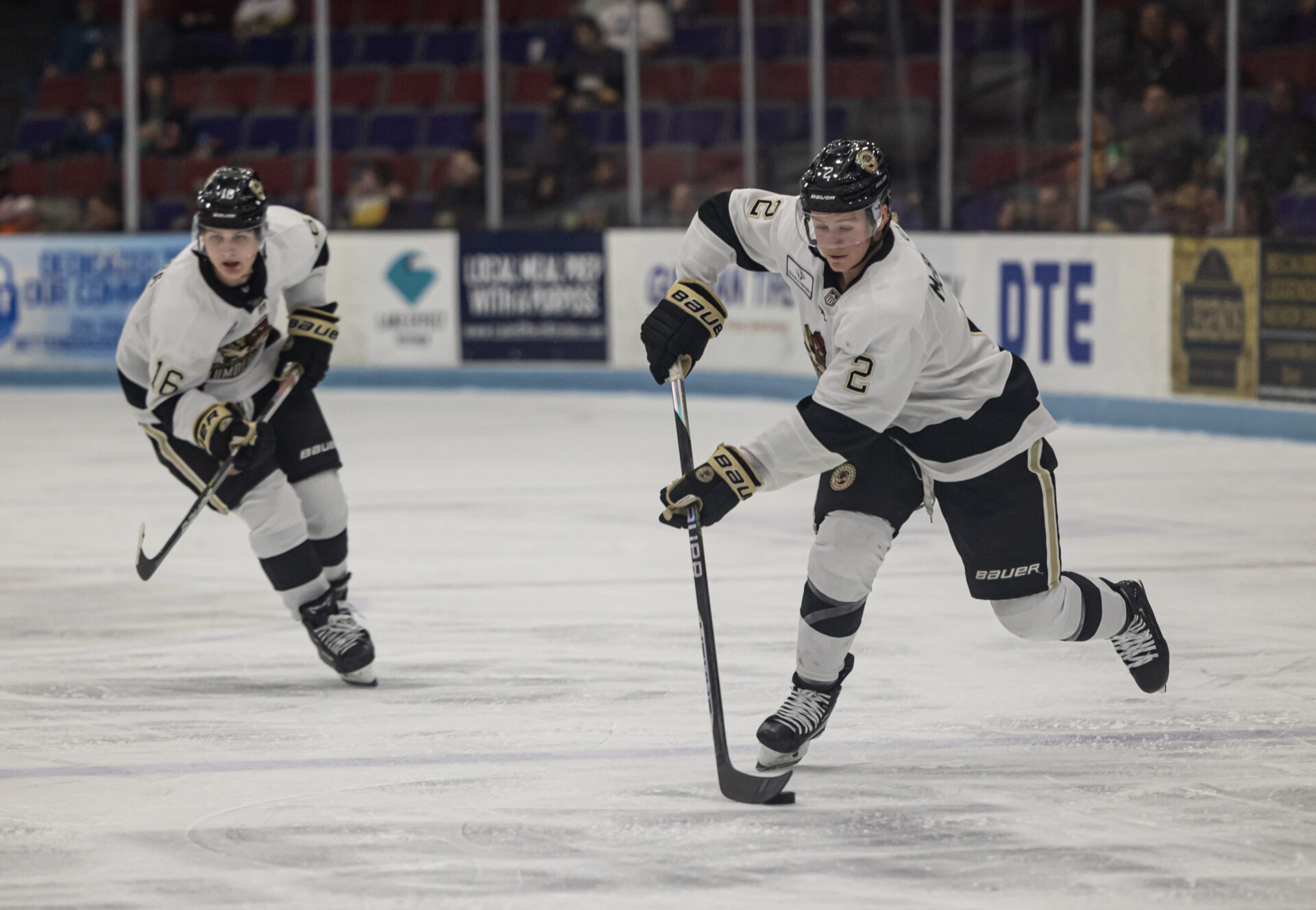 "I think we're right around where we anticipated we would be," said Hamilton, whose team will hit the road for a pair of games in Dubuque this weekend against the Fighting Saints. "We knew we had a lot of talent, but we knew it was young talent. We knew there was going to be an early learning curve and some early mistakes that in the short term we will have to live with, and in the long term overcome.
"We are still very optimistic about what this team can become."
On the positive side, Hamilton said he's been very pleased with the team's goaltending, which was a major concern at the start of training camp.
Conor Callaghan and Noah Rupprecht have both developed beyond expectations, Hamilton said. Callaghan broke out in recent weeks with an impressive five-game winning streak, then Rupprecht emerged last weekend with two very strong performances against Green Bay.
"Our goaltenders have progressed very nicely," Hamilton said. "We were not sure what we were going to have there. We expected someone we drafted to be our No. 1 goalie, he didn't make it and it threw us into a bit of a frenzy. But now we're happy to know that we have two very reliable goalies who can keep us in hockey games."
Hamilton said he's also pleased with the overall play of the defensemen, even though the Jacks are tied for third in the Eastern Conference in goals allowed.
Part of the success of the defensive corps has come on the offensive end. Second-year defenseman Gavin McCarthy is third on the team in point production with 10, all on assists. Another second-year defenseman, Nathan McBrayer, is seventh on the team with three goals and four assists for seven points. Three more defensemen – Tyler Dunbar, George Fegaras and Matthew Morden – each have five assists.
Fegaras and Morden, both rookies, were selected in last summer's National Hockey League draft.
"By USHL standards, our defensemen are very young," Hamilton said. "Three guys – McCarthy, Dunbar and McBrayer – had played high minutes before while the others had no USHL experience. But we're pleased with how they've progressed. Our defensemen have been good."
Hamilton said he's been most disappointed with the forwards, who as a group have the most experience on the team.
The Jacks are second in the Eastern Conference with 47 goals so far, but they are far behind Chicago, which leads the conference with 72 goals, and most of the other teams are within a few goals of the Jacks.
Hamilton thinks the forwards, with talented veterans like Jake Richard (7 goals, 5 assists), Tyler Hotson (4 goals, 8 assists), David Hymovitch (4 goals, 5 assists), Ethan Whitcomb (6 goals, 2 assists), Owen Mehlenbacher (3 goals, 1 assist), Luke Buss (2 goals, 3 assists) and Jack Reimann (0 goals, 1 assist) should be producing more.
"The forward group as a whole would be my biggest disappointment early in the season," the coach said. "We have a lot of returners up there and we just kind of expected a little more offensive output from them. That's particularly true on the power play.
"There's definitely room for growth. The returning guys need to take a further step."
Poor power play percentage
The Lumberjacks are dead last in the Eastern Conference in power play percentage – they have 9 goals in 55 opportunities – and the issue became very glaring last weekend.
The Jacks were 0-for-6 on power play chances on Friday night against Green Bay, and 0-for-4 on Saturday night.
In two tight games that could have gone either way, those lost opportunities could have made a big difference.
Surprisingly, Hamilton said the situation is not as dire as it seems.
"When we're in the opponents' zone we are getting set up and getting shots," Hamilton said. "We have to start winning more faceoffs, and we're not getting good, clean setups and entries (into the opposing zone). We need to clean up the faceoffs and entries, because once we're in the zone we're doing good things.
"For this group, our goal is 1 ½ shots per minute on the power play and spending 70 percent or better of the time in the zone. We are not so far off on those goals."
Five Lumberjacks chosen for World Junior A Challenge 
The Lumberjacks received some exciting affirmation of their talent level on Wednesday.
Four players – Richard, McBrayer, McCarthy and Whitcomb – were selected to compete on the American team at the 2022 World Junior A Challenge tournament, which attracts some of the best amateur hockey players in the world.
The tournament will run from Dec. 11-18 in Cornwall, Ontario.
The Lumberjacks have more players on the team than any other USHL squad, which is a feather in Muskegon's cap, according to Hamilton.
"They're getting an opportunity to represent their country on the big stage," Hamilton said. "They were selected from among the best 04 and 05 (birth year) players in our league. Whoever puts the roster together IDs the top guys. To have four of the 21 who were chosen says a lot about the talent we have here.
"They are all really excited. McCarthy has played on a USA team in the past, and for the other guys I think this is their first opportunity. It's a great honor and we're proud of them and happy for them. We're here to help them get recognized and move on in their careers."
While the World Junior A Challenge will be a great opportunity for the four Lumberjacks, it will also be a great challenge for the team, which will have to compete in five games in December without them.
All four are second-year players, leaders and big contributors. Richard is currently the Jacks' leading point producer, McCarthy is third, Whitcomb is fifth and McBrayer is eighth.
"The league will allow us to replace guys who are gone," Hamilton said. "We will probably grab a guy or two from another league and fill the rest of the spots internally. Obviously this creates some opportunities for some other guys who are already here."