HART – The Hart High School wrestling squad has been very strong for decades, and particularly good for the past three seasons, when the Pirates won district and regional championships and advanced to the state Final 8.
But this year's team is a little different, and a little special, because it faced some midseason adversity and still found a way to get back to the state quarterfinals.
In December, three key members of the team quit for personal reasons. All three were individual state final qualifiers last season, and one earned All-State recognition.
That left a few gaping holes in the Pirates' lineup, and left some big question marks about their ability to make it very far in the state team tournament this season.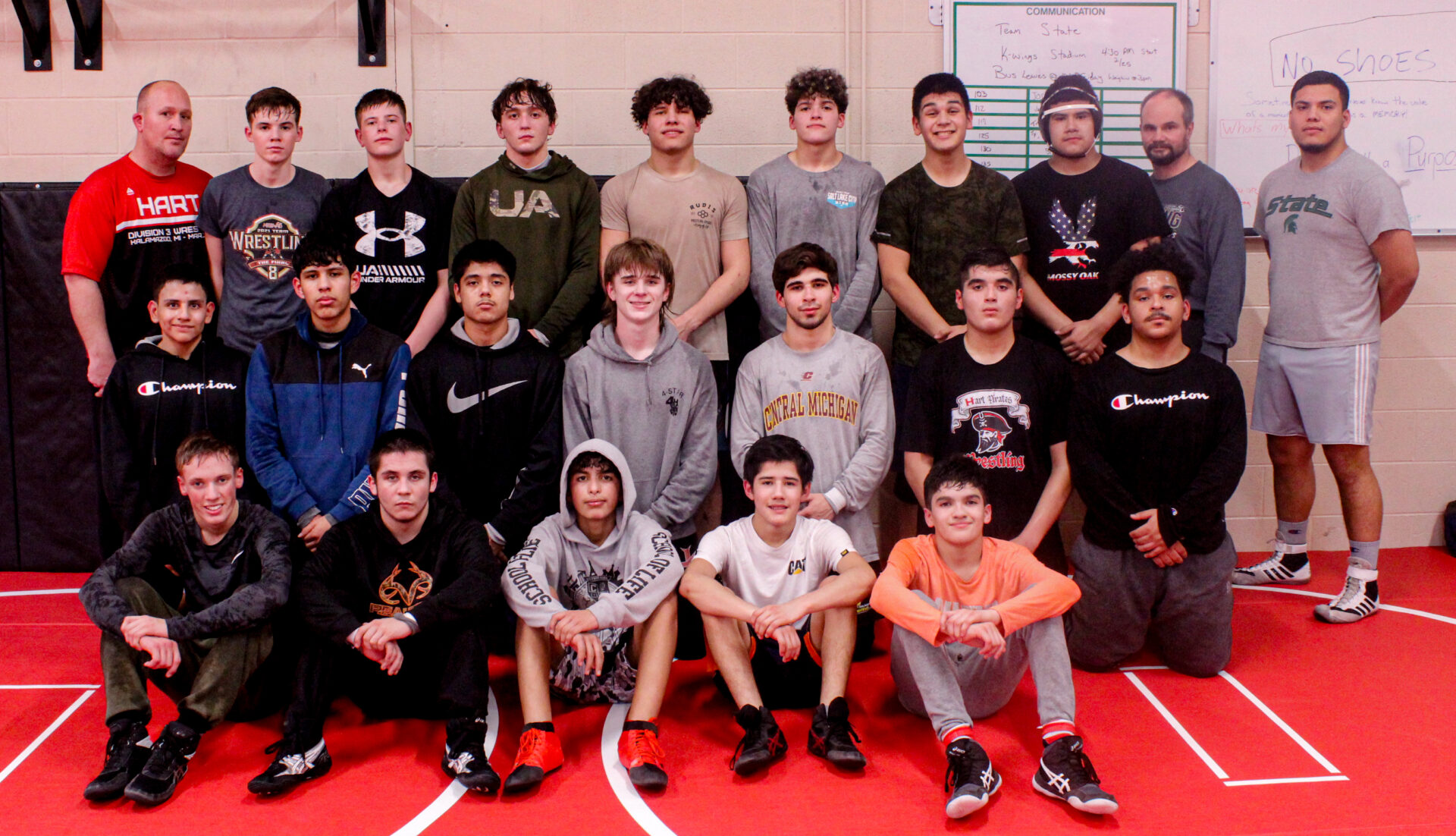 Head coach Mark Arbogast, a two-time All-State wrestler at Hart back in the day, admits that he was worried for a bit when the three standouts left the team.
The story had a happy ending, however, because the wrestlers who stayed on the team worked even harder, some kids who were not originally in the starting lineup pushed themselves to fill the holes, and everyone focused on making it another great season, after all.
The Pirates were successful, to say the least. Last week they defeated Orchard View 66-9 and Comstock Park 44-27 to capture their third straight regional championship
Now they are preparing for a return trip to Kalamazoo's Wings Event Center on Friday to battle Imlay City in the Division 3 state quarterfinals. If they win, they will advance to Saturday's state semifinals at noon, and a win in that round would put the Pirates in the state finals at 3:45 p.m. on Saturday.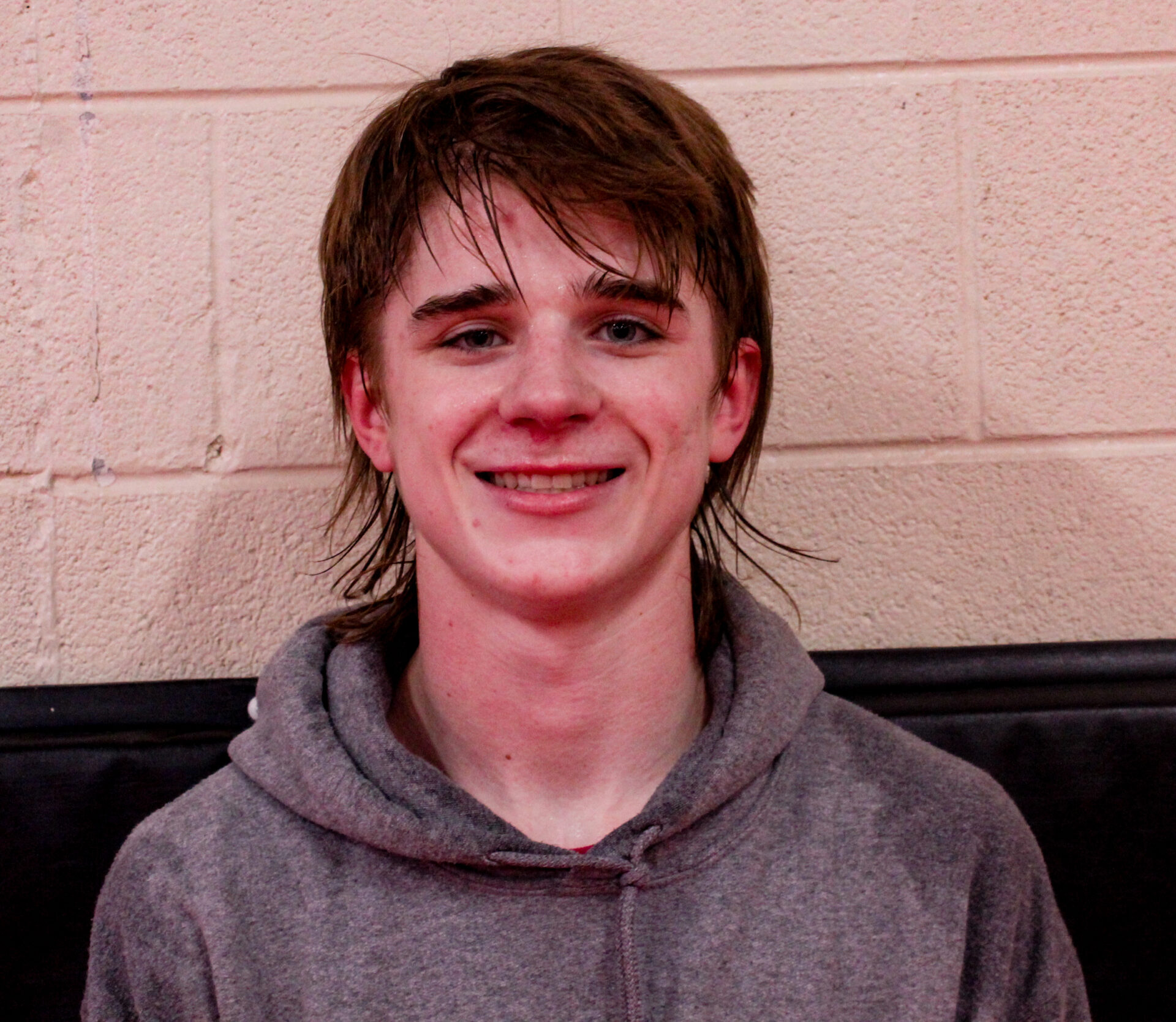 Coach Arbogast knows he has a lot to be proud of, because he has a bunch of wrestlers who pulled together and met their goals, despite the losses they took to their lineup.
"You don't lose kids of that caliber and not be concerned," said Arbogast, whose team has a 30-5 record. "We as a coaching staff – and my assistant Rocky Smith and I are really co-coaches – put our heads together and made some adjustments to how we do things in terms of strategy, to put the kids in a position to do what they need to do.
"The chemistry in the room changed, and it's been for the good. It didn't phase the kids. They just kept their heads down, went to work and got some nice wins. We talked a little bit about what happened, but high school kids know. They see what's going on. They knew what needed to be done."
The records of the Pirate wrestlers tell the story. The team has a bunch of guys who have won 20 or more matches, so Hart should be competitive in just about every weight class this weekend.
The Pirates who have won 20 or more matches are Jose Chavira (22-16, 103 pounds), Trayce Tate (39-4, 119 pounds), Ty Thomas (33-10, 125 pounds), Bryce Jorissen (24-18, 130 pounds), Joseluis Andaverde (25-13, 140 pounds), Mason Cantu (46-1, 145 pounds), Guillermo Ortega (26-17, 152 pounds), Alex Hicks (24-11, 160 pounds), Zane Thomas (36-15, 160 pounds), Leo Guardarrama (46-2, 160 pounds), Jon Ponce (29-14, 215 pounds) and Ivan Lara (27-22, 285 pounds).
Tate and Cantu took first place in their weight classes as last weekend's individual regionals while Guardarrama finished second in his weight class.
"That was a really tough match," Arbogast said about Guardarrama's overtime loss in the finals at individual regionals. "I'm prejudiced, but I think our guy outwrestled his opponent. Sometimes things just don' t work out."
Two years ago the Pirates advanced to the Division 4 state team quarterfinals and lost to Manchester. Last season they advanced to the Division 3 quarterfinals and lost to Whitehall, their West Michigan Conference foe.
This year Arbogast thinks his team might have its best chance in the past three years to win a quarterfinal and advance to the final four. Hart is seeded fifth while Imlay City is seeded fourth.
The winner of Hart-Imlay City will meet the winner of the Dundee-Constantine match in the semifinals.
"The top three teams in Division 3 are really tough, so we're very happy being the fifth seed," said Arbogast, who graduated from Hart in 1988 and wrestled under legendary coach Mark Bosse. "Imlay City has a very tough squad, but we've been looking at the matchups, and if some things go our way and we wrestle well, it could be a competitive dual match."
When asked if the Pirates are more than ready to advance to the semifinal round, after two years of losing in the quarterfinals, Arbogast said, "We definitely want to do that. This squad has had to do some things that the other teams didn't have to, bur our leaders really stepped up and made things better, and some of the younger kids have taken on big roles to help us win."
Even if the Pirates don't make the semis, the coach said he and Coach Smith will be extremely happy with what they've accomplished, considering the challenges they've faced.
"Whether we get there or not will not take away from what these kids have done this year," he said.